You may have noticed that I have been playing with my blog design trying to get something I really love.
Photos to remind you of the designs I had done.
Well after a lot of hours and frustration I finally just gave up. I decided to pay someone more qualified than I to do the task for me. I am so happy I did! Have you heard about

LauraJane

? Well You have now! She is a Wife, Mom, Crafter and Talented Blog Designer! She has a blog which you can check out called Call Me Laura Jane
.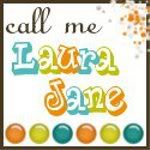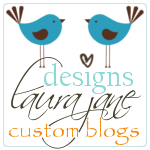 If you are looking for a professional blog designer at a GREAT price LOOK NO FURTHER! LauraJane is your woman! Just want a button? OK! Just a Signature? She will do that too! Seriously with her great prices just go for the whole SHEBANG!
Hopefully by the time you read this my new blog design will be loaded! Well if I let her do her job and stop trying to give her too many ideas! (sometimes it is hard to pass the torch)
So what's your vision for your blog??
Have you got the design you always dreamed of??
What do you think of LauraJanes Portfolio?